Today's post is a partial re-post from a 31-day series written last year on my Puttin' in Time on the Rockpile blog. Because it is time to process this year's horseradish crop, I felt it was timely to re-introduce the information in a new venue.
Our whitetail buck for the year is already chillin' out to be packaged tomorrow, so hunting was out and processing horseradish root was in today.
Horseradish has been used medicinally for centuries, for everything from appetite stimulation to liver detoxification. Unless you are allergic to it, there is much evidence that incorporating horseradish root into your diet is a good thing. We also use the smallest, new leaves in pesto and have even dehydrated some of the small leaves to use in soups and rice dishes.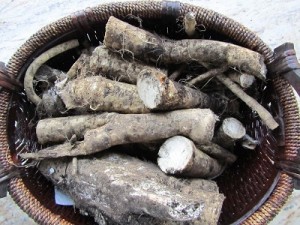 The first year we grew horseradish, we got ½ cup of finely ground root. The second year, our crop ended up being three full cups of ground root. January came along and we were already out! Last year and this year, we have a tremendously abundant harvest of horseradish, and I began grinding this year's crop today.
For the first time ever, we are going to wash and vacuum seal some sections of root, peel on, to grind later and see how that works. Working with horseradish is almost like making pepper jelly – pretty hard on the sinuses!
Because I like to have the grind on horseradish be very consistent and very fine, I use my Magic Bullet for the grinding. There are several options for this type of powerful mini-food processor if you don't already own one. We chose the bullet because one of our sons had one and it was working very well over a period of time. Look for bargains, but be sure to buy a new one in its original packaging.
Most of my horseradish roots this year ended up being 1" to 2" in diameter. I wash and peel the root, then slice off just over ¼" slices on a cutting board and cut those into four pieces. Doing this keeps you from having any long fibers to jam up the blades on the food processor.
It is important to pulse the root pieces until they are fairly consistently ground, then finish it off with 30 seconds or so of continuous grinding. Slicing them across the grain is a lot of work, but it is so worth it if you care about consistency in your end product.
Vacuum sealing and freezing ground (or whole) root is fairly new to us. Initially, I simply put the ground root in glass bacon bits jars and put in about a tbsp. of lemon juice, then froze it. When I would empty a jar, I would take another out of the freezer and put it in the condiment bin in our refrigerator. With plenty of bacon bits jars on hand, I will freeze some that way and vacuum seal the rest. My very helpful husband is the one who suggested vacuum sealing some whole and unpeeled so that it can be "fresh ground" later on. It is certainly worth a try!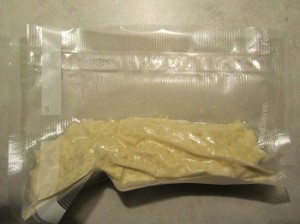 Keep in mind that there is quite of bit of liquid in fresh horseradish root, so you will need to set the filled bags in your freezer (upright, so they don't spill out) until frozen, THEN vacuum seal them.
One of our sons who lives out of state would like us to include a vacuum-sealed package of home-grown horseradish in the next "care package" we send him. He is also hoping for venison to be included. We will make him wait until he is here for Christmas to partake of some bacon-wrapped venison tenderloin with an accompanying horseradish sauce made with homemade mayonnaise …
We attempted to replant our horseradish root in a new location last year. The newly planted area progressed slowly this year, but we could not eliminate it from the old location. Be sure to NOT plant horseradish where you don't want it forever. Apparently the only way to get rid of it is heavy-duty weed killer, and we do not want to use something like that in our rock garden, so we will now have horseradish growing in two locations! To combat the "weedy" look, I cut the leaves off (you can use a few of the new, little ones in pesto) and tossed them in the compost pile every couple weeks.
Tomorrow will be a great time to pick the rest of the lemon thyme and get it in the dehydrator! I just read yesterday that thyme was "good medicine" for many health issues, not just a great seasoning.
Psalm 128:1-2- How blessed is everyone who fears the Lord, Who walks in His ways. When you shall eat of the fruit of your hands, you will be happy and it will be well with you. NASB